We had the BEST TIME EVAH! yesterday at the Shriner's charity football game at Dartmouth College. Everything was perfect from start to finish (and we even won!). 🙂
It started with finding the perfect parking spot. Then I picked up my complimentary ticket, and when the nice man found out that I was the coach's sister, he escorted me to the gate, cut the line, and announced "person with a service dog" and the seas parted. I had told him she was 'just' a therapy dog in training, not covered under any laws, and he retorted, "She's a service dog." Got it. 😉
Naturally everyone loved her, and she almost got the gatekeeper's french fries but I stopped her just in time.
A vendor inside the stadium asked what kind of therapy she would provide once her training is over and I said, "Just to be cute and cheer people up, really." She took another look at her and said, "That will work." 🙂
I found a nice spot to stand (after all that driving I didn't want to sit) next to a nice man wearing a Shriner's Board of Governor's shirt. We chatted a bit, unusual for New England, and we had each other in stitches in no time. I told him I'd driven up from Tennessee, took me three days, and he deadpanned, "Three days? What'd ya WALK?" ba ha haaaaaaaaaaa! Adorable. He told me all about his German Shepherd, what a character; watches TV, barks at the commercials he doesn't like. Too cute.
Then I met a kindred spirit, Lovely Lisa. Practically every other sentence out of our mouths was, "Me, too!" We're vegan, we love the Oh She Glows website, we love '80s music, we love animals. It was amazing. I hope she reads this and responds so we can share email addresses. Yes, I will try kale again (and she's going to try the chocolate chip cookies, right?). 🙂
Next a nice lady came over who just lost her dog to (I think) cancer earlier this year. A beautiful, beautiful Akita named Tyler. I'm hoping that when the time is right she adopts a rescue pooch to fill the void in her heart.
A man came over and nearly enveloped Oreo in hugs, just like a little kid, and of course she loved it. I noticed he had Nashua High South (my old school) clothes on. I told him I was class of '81 (he didn't even blink, I'd better start wearing makeup again…). Turns out he's the football team videographer, and my brother will be coaching there this year! He called his entourage over and one guy kept saying, "Oreo, Oreo, Oreo," so of course he got no response. He finally said to me, "Is she deaf?" and I said, "No, she's just ignoring you." He was quite taken aback, ha ha ha! Sorry, mister…
Lastly Adam came over and asked how Oreo's quality of life is on three legs. I looked at her and said, "Fabulous! She's spoiled rotten!" and then seriously added that she doesn't even miss her leg, and she's a real inspiration. He agreed and mentioned that he's writing a book on happiness and the resiliency of humans and animals. I said, "Oh, I'm a book editor." Interesting. A handsome, Christian writer…single…loves dogs…hmmm….. 😉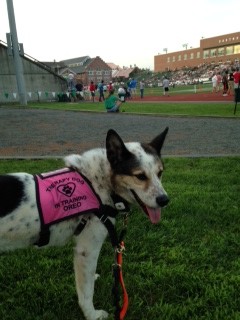 s