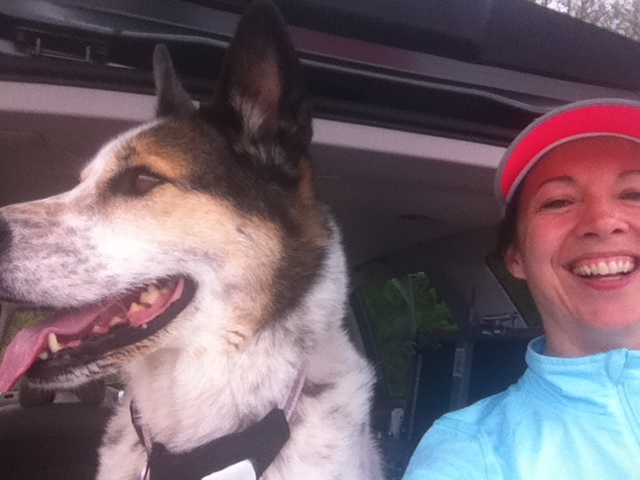 Today was a smashing success! I LOVE Millennium Running, they put on very organized race events. The runners were sooooooooooo nice! They of course loved Oreo, and we walked around a bit saying hello before the race started. Once I brought out her buggy we got a few raised eyebrows but they were accompanied by smiles. I was offering everyone rides back to the finish line for $5, ha ha.
We started at the back of the pack but quickly overtook the walkers. One runner lady was so funny, she said, "You know it's bad when the three-legged dog passes you!" Ha haaaa! She was so lovely, and came over afterward to chat.
The highlight for me as a runner was when the blind guy passed us. His wife/partner was in the lead holding the top of his metal cane, and he was behind her in tandem holding the other end. Talk about inspirational! And, they were waiting at the finish line cheering us on! His wife/partner was yelling, "Go, Tripawd!!!" and the whole crowd started cheering us with her, "Go, Tripawd! Woooo hoooooo!!!!" Cameras were everywhere, and we're both such hambones I know at least I was posing, and couldn't resist a queenly wave. 😉
The highlight for me as a tripawd mom was after we put Oreo's buggy in the car and were heading back to get snacks. A lady in the parking lot hesitantly asked me how Oreo was doing on three legs. I said great, and told her about a couple of Oreo's escapades. She opened up to me and said that her eleven-year-old Husky just had a tumor removed from her front leg on Thursday, and the vet was talking about possibly amputating the leg. The lady said she was bawling and bawling, envisioning horrific scenes of her poor three-legged dog. Then she saw Oreo. She was so relieved! I directed her to Tripawds.com by showing her Oreo's gorgeous bandana. I missed all the award ceremony but it was totally worth it to bring a little peace to that wonderful dog mom.
I'll post pictures as soon as they're ready. I may have to chop my head off though; I had taken my hat off partway through and who knows what I looked like. Oreo was the star of the show anyway. 😉 Oh, and my pace was 13:13. My first run last year was 15:32. We came in 197 out of 261, and were 21st in our age category (which I'll never win because if anyone ever yelled my age over a loudspeaker I'd die of embarrassment, ha ha).