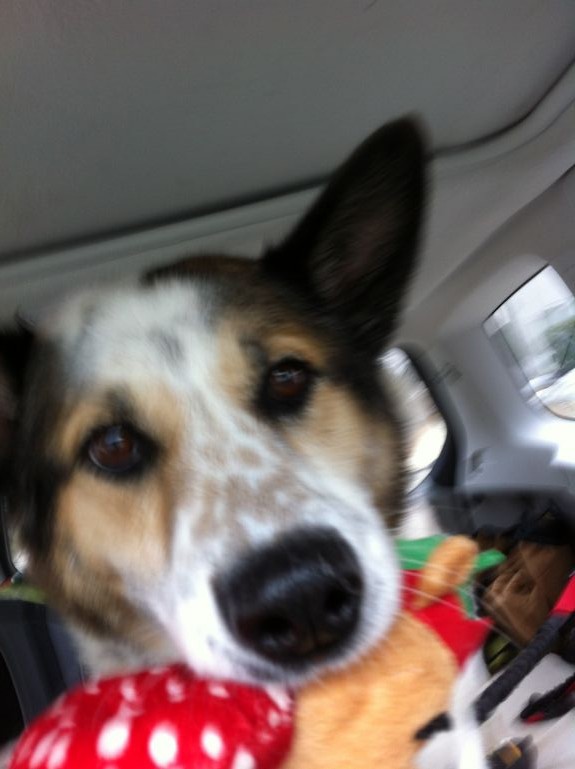 Oreo and I encountered two loose dogs on the trail today. They had been at nephew #1's ballgame, barking like mad at every dog that walked by. When I saw the dad hopping boulders over white water with the 4- and 7-year-old girls, one dog already loose, I knew it wasn't long before the other one got loose and charged. Sho nuff…good thing I have extraordinarily long arms. I had both big dogs by the collar (his and mine), screaming at him to come and get his dog, "and the little one too!" Wouldn't you know he turned around to the four-year-old and blamed her because she wasn't listening to him so he got distracted and let go of the leash? Honestly…
Besides that fiasco, and the other one where Oreo was about to jump in the water for the first time but a little girl threw a rock in front of her and the splash scared her back (what is it with the kids today?), the trail was gorgeous!
I sprayed Oreo with her Vets Best peppermint oil & cedar extract spray, and the mosquitoes didn't bother her at all. When we got home I vacuumed her as I do whenever we go in the woods, and no ticks showed up in the vacuum container either, so that stuff really works! I put Badger brand citronella & cedar anti-bug sunscreen on myself, so the two of us must have smelled like a Yankee Candle gift shop walking through the woods, ha ha! But, the bugs left us alone, and there were swarms of them out there.
The water was just beautiful, and so loud coming over the rocks it was enough to drown out any worries in my mind. There were two bridges, and we crossed one; it was small and had a chain-link fence surrounding it, nothing to write home about. The second one was so elegant; dark wood arching gracefully over the river, and it had brass-looking handrails on either side. I thought well, Merrimack certainly isn't hurting for money if they can afford a fancy bridge like that, ha ha!
Oreo spotted a squirrel in a huge oak tree; how she saw it among all those bright-green baby leaves is beyond me. I was watching out for the moss, mushrooms and wood anemone so I didn't ruin anything. There were a lot of tree roots to step over as well; I could see where the water level had been high in the spring but after receding has left the roots exposed.
It really was very peaceful, and we'll go back there again sometime soon. Maybe next time we'll bring a lunch and spend some time just relaxing with nature.