So, I stopped blogging back in September when a man passed me while I was running and said, "Good morning, Lee Ann," and I had never seen him before. I changed training routes and took it offline. I ended up not finishing the training and not doing the marathon due to a number of things, but I'd really like to try again.
Meanwhile, Oreo and I have been busy resisting the current regime. After we helped get Evan McMullin on the ballot in Kentucky and Virginia, we took to social media to help spread the word. Unfortunately, Evan didn't win. Since then, we've gone to the state house in Nashville to urge the electors not to vote for DJT. We went to our senators' offices and urged them to reject DJTs cabinet nominees (we took the picture so she's not in it). We did the Women's March in our home city (in the rain) with 5,000 others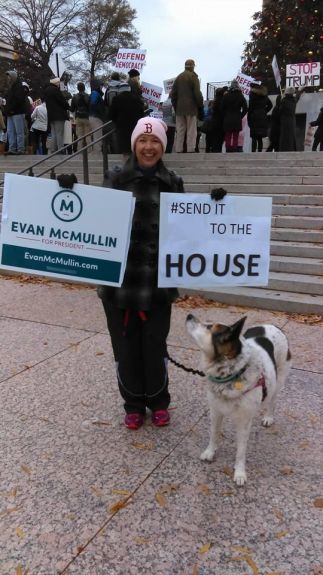 . And today we did the #NoBanNoWall walk. It's been a whirlwind, that's for sure! She's been a trooper though, and if we don't move to Canada or Mexico, we'll keep at it here until peace and sanity are restored.